Globalization
The professional requirements for engineers do more and more circulate around making sense of globalized development and production as well as related cultural issues. ELLI2 targets these demands in the "Internationalization at home", "Transnational Activities" and " productive engagement withdiversity" spheres of activity.
GoING Abroad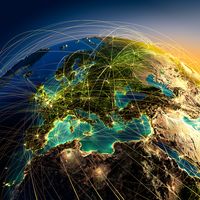 The GoING Abroad Programme was designed to increase outgoing mobility in the engineering faculties. A regular info session combines subject specific information with student experiences and introduces contact persons at the university and engineering faculties. The format is accompanied by information material such as a newsletter and a brochure.
Buddy Programmes, Language Partnerships and Intercultural Tutorials

To welcome international students at the start of their studies at RUB and simultaneously bring international aspects into the curricula of German engineering studies, ELLI connects both groups via buddy programs, language exchanges and intercultural tutorials.
Intercultural Workshop
The workshops target international students at RWTH Aachen University as well as German students preparing to study abroad, involved with international study groups, or looking to improve their intercultural competencies. This event is organized in cooperation with the International Office at RWTH Aachen University and will be carried out by an experienced speaker.
Engineering language courses
Students from abroad often face significant additional difficulties during their studies because of language barriers. Technical language courses aim to counteract subject-specific language barriers for incomings by closing the gap between technical terms in teaching contexts and different language backgrounds. Course concepts and e-learning modules to extend classroom teaching are continuously being developed and evaluated in collaboration with faculty, student representatives and language course lecturers.
Recruiting-campaign for foreign students
This campaign uses video testimonials in order to depict the motivations and requirements of international students in Germany. Thus, the attractiveness of Germany as a study location for engineering students from strategically important countries shall be increased.
Transnational online courses
Transnational education approaches will be enhanced and linked to remote laboratories. Integrated online courses are established in which German students and international students from partner universities learn together. Strengthening intercultural competences will be combined with working on real engineering and technical problems. Students from different countries can conduct experiments, analyze and interpret the results in teams.
Diversity-Workshop
The workshop "Diversity qualification for the business leaders of tomorrow" prepares students for these challenges by providing knowledge and giving practical examples of cultural peculiarities in the workplace. The workshop addresses diversity management strategies of large companies use to promote a bias free work environment. The workshop also provides information on the changing recruiting process with respect to diversity competences.
Diversity competence development for teaching staff
Both teaching and institutional structures will be developed according to the principle of equal opportunities. Teachers and administrative staff will receive additional training to enhance their knowledge and skills regarding equality and diversity in higher education, collaborative learning, and participatory structures. The workshop 'start up teaching' addresses the needs of new teaching staff, equipping them with basic knowledge and practical training on diversity competence.